Horizontal Burn
The Horizontal Bunsen Burner test is used to determine the resistance of cabin and cargo compartment materials to a flame applied for 15-seconds.
Test Procedures
14 CFR 23, Appendix F, Part I(e)
14 CFR 25, Appendix F, Part I(b)(5)
FAA Fire Test Handbook, Chapter 3
AC 23-2A
BSS 7230-F3/F4
RTCA DO-160G, Section 26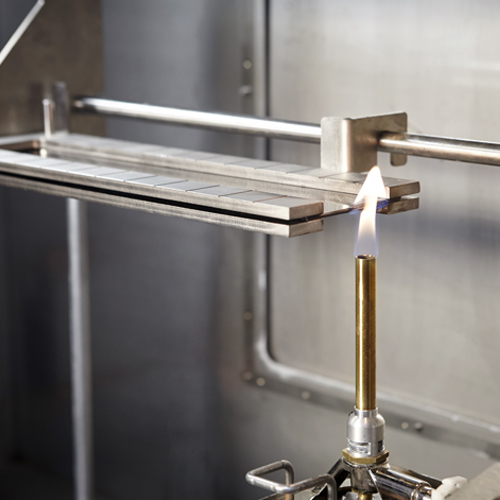 Test Description
A test sample is aligned horizontally and exposed to a small Bunsen burner flame at one edge. The flame is applied for 15 seconds and then pulled away from the sample. The rate of flame travel across the sample is measured between two points. The pass/fail criteria is based on the burn rate averaged across three test samples.
This test is typically used to show compliance with the following Federal Aviation Regulations (FARs):
FAR 23: 23.853(a), 23.853(d), 23.855(b)
FAR 25: 25.853(a), 25.855(d)
FAR 27: 27.853(a), 27.855(a)
FAR 29: 29.853(a), 29.855(a)
What Products Require This Test?
The following products typically require the Horizontal Burn test. For a complete list, see 14 CFR 25, Appendix F, Part I.
Clear Plastic Windows & Signs
Elastomeric Material Parts
Seat Belts & Harnesses
Cargo & Baggage Tiedown Equipment (incl. bins, pallets, etc.)
+ more