Vertical Burn
The Vertical Bunsen Burner test is used to determine the resistance of cabin and cargo compartment materials to a flame applied for either 12- or 60-seconds.
Test Procedures
14 CFR 23, Appendix F, Part I(d)
14 CFR 25, Appendix F, Part I(b)(4)
FAA Fire Test Handbook, Chapter 1
BSS 7230-F1/F2
RTCA DO-160G, Section 26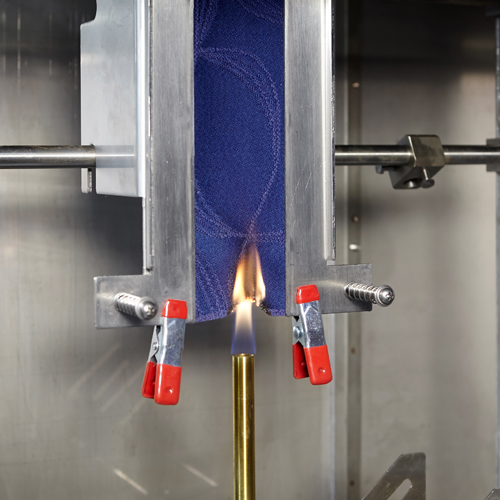 Test Description
A test sample is aligned vertically and exposed to a small Bunsen burner flame at its lower edge. The flame is applied for 12 or 60 seconds and then pulled away from the sample. If the sample continues to flame, this flame time is recorded along with any flaming drips that may occur. After the test is over, the burn length is measured. The pass/fail criteria is based on these three values averaged across three test samples.
This test is typically used to show compliance with the following Federal Aviation Regulations (FARs):
FAR 23: 23.853(d), 23.855(b)
FAR 25: 25.853(a), 25.855(d)
FAR 29: 29.853(a), 29.855(a)
What Products Require This Test?
The following products typically require the 12- or 60-second Vertical Burn test. For a complete list, see 14 CFR 25, Appendix F, Part I.
Interior Ceiling and Wall panels
Floor Covering
Textiles, Fabrics, Leathers
Seat Cushions
Padding
Cargo Covers
Tray and Gallery Furnishings
Electrical Conduit
+ more