Oil Burn for Seat Cushion (Fireblock)
Oil Burn for Seat Cushion (Fireblock)
Oil Burn for Seat Cushion (Fireblock)
The Oil Burn for Seat Cushion test, also known as the Fireblock test, is used to determine burn resistance and weight loss characteristics of seat cushions when exposed to a high-intensity open flame.
Test Procedures
14 CFR 25, Appendix F, Part II
FAA Fire Test Handbook, Chapter 7
BSS 7303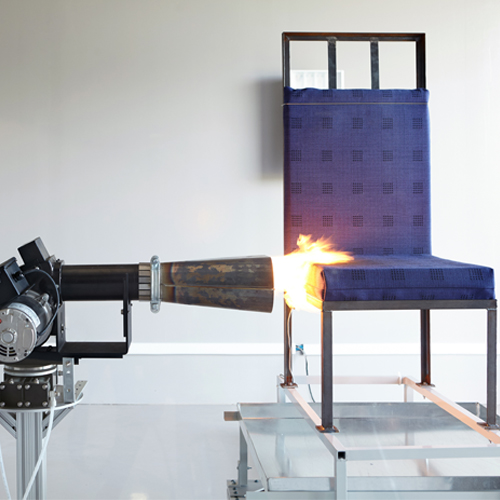 Test Description
A sample set consisting of both a bottom and back cushion is placed on the seat frame test fixture. The sample is exposed to a high intensity open flame for two minutes. After the test is completed, the weight loss is calculated and the burn lengths on the four faces of the cushions are measured. The pass/fail criteria is based on the these values averaged across three test samples.
This test is typically used to show compliance with the following Federal Aviation Regulations (FARs):
FAR 25: 25.853(c)
FAR 29: 29.853(b)
What Products Require This Test?
The following products typically require the Oil Burn for Seat Cushion (Fireblock) Test.
Seat Cushions
Headrests
Leg Rests